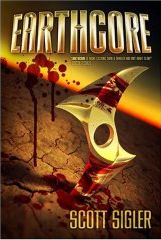 I'm just finishing up Scott Sigler's podiobook Earthcore, which is a fantastic story, right along the lines of the books I normally read.
Deep below a desolate Utah mountain lies the largest platinum deposit ever discovered. A billion-dollar find, it waits for any company that can drill a world's record, three-mile-deep mine shaft. EarthCore is the company with the technology, the resources and the guts to go after the mother lode. Young executive Connell Kirkland is the company's driving force, pushing himself and those around him to uncover the massive treasure. But at three miles below the surface, where the rocks are so hot they burn bare skin, something has been waiting for centuries. Waiting ... and guarding. Kirkland and EarthCore are about to find out firsthand why this treasure has never been unearthed.
Sigler wrote the story, and he narrates it in the podcast version. I was suprised at how well Sigler, a non-professional voice actor, did the individual characters' voices.
From his introductions before each chapter, it sounds like Sigler has a strong taste for carnage in his fiction. Fortunately, it doesn't come across as more graphically violent than many other stories from mainstream authors I've read. Perhaps the blood on the cover art is unneccesary, but thankfully, that can't detract from the story. Anyway, the story is free, and definately worth listening to. Check it out. A print version is now also available.